It seems that in our current era, every day brings a new contender for the most Orwellian doublespeak. For example, I can recall participating in the marriage equality referendum campaign in Ireland, and so I was surprised to be told by the ACLU that such advocacy involved, "fighting for inclusion in a deeply flawed and fundamentally violent institution". Of all the campaigns that may have been deemed "violent", the one with the "love is love" slogan seemed an unlikely candidate. From there we progressed to the point where racial segregation was described as "antiracist". However, all of that newspeak can take a back seat behind this new doozy from Brian Kernick, the self-styled President of Atheist Alliance International (AAI):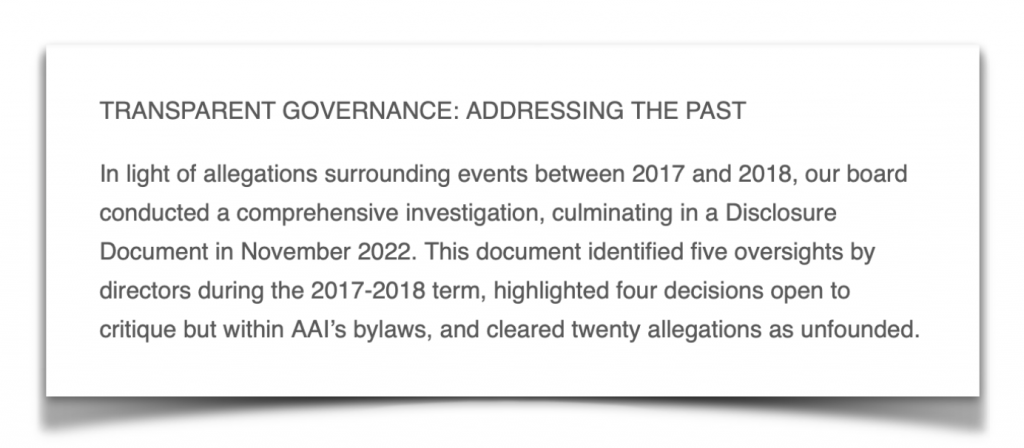 Let's have a quick review of the recent events that have now been described by Brian Kernick as "transparent governance":
This is the behaviour that Brian Kernick described as "transparent governance", before his newsletter went on to address the latest AAI scandal. It was recently revealed that AAI has been operating illegally since 2021 and that AAI remains legally prohibited from using the name 'Atheist Alliance International' or carrying out any business at all. In respect of this situation, Brian Kernick reported that AAI has been on an "administrative journey". Well, indeed. In such circumstances it is not at all uncommon for a State Attorney General to arrange for an "administrative journey" on behalf of a corrupt charity.
The Brian Kernick newsletter also states that those at AAI, "remain devoted to ensuring transparency and upholding the highest standards". That reminds me, since it is nearly November 2023 already, where are the 2022 accounts? How come I can access the 2022 financial statements for other nonprofits at the commensurate public authorities, but not for AAI?
---