I do not know August Berkshire. I have no reason to believe that he is anything other than an honest and decent person. Earlier this year he joined the purported Board of Atheist Alliance International (AAI) as Vice President, and it is perfectly possible that at the time he was unaware of the explicitly corrupt nature of their leadership. However as evidenced by a recent exchange on social media, he has now come to the realisation that AAI has been operating illegally for years. He must therefore decide whether he will act honestly and transparently, or whether he will seek to sweep the wrongdoing under the carpet as the rest of the supposed AAI Board have been doing for so long.
Earlier this week, August Berkshire posted a meme that accused the religious of fabricating stories about god. The meme solicited the exchange illustrated below, in which Martin Boers mentioned that AAI has been responsible for a long series of dishonest fabrications of its own.
This statement from August Berkshire about AAI is demonstrably false in several different aspects. Firstly, AAI is indeed operating illegally whether it is collecting money or otherwise. Anyone can check this themselves here in a few seconds. That link is to the California Secretary of State (SOS) search tool, where AAI is registered. Anyone can just enter the AAI File Number, which is 3398233. The results returned demonstrate that whereas the present corrupt leadership improperly took over the organisation in 2017, since then they have failed to keep adequate financial records even as they paid themselves thousands of dollars from funds raised for charitable purposes. The tool provided by the California Secretary of State describes the full history of the inadequate financial records filed since this time, resulting in the suspension of AAI during May of 2021.
The same financial delinquency is also evident in the publications from the California Franchise Tax Board (FTB), which suspended AAI in July of 2021. Anyone can check this themselves here in a few seconds. That link is to the California Franchise Tax Board search tool, where AAI has the Entity Number 3398233. It is public information that AAI has not been a tax exempt nonprofit since 2021. It has been accumulating tax liabilities since this date, and donations to AAI have not qualified for the commensurate tax deductions during this period.
Helpfully, the Franchise Tax Board in California is also very clear about what it means for an organisation to be suspended. The consequences are onerous. When any organisation is suspended, it may not legally conduct any business whatsoever. That is, whether they have been soliciting funds or not, AAI has been operating illegally since 2021. Indeed, the current so-called AAI Board may not even lawfully use the name 'Atheist Alliance International'.
There is an open question about what exactly these people intended to do with the money that they were energetically soliciting, since AAI is not lawfully permitted to conduct any business. However, that August Berkshire was wrong about AAI operating illegally was not the only area where his statement was objectively false. As Martin Boers demonstrated in response, he was also wrong when he said that "we are not collecting any money".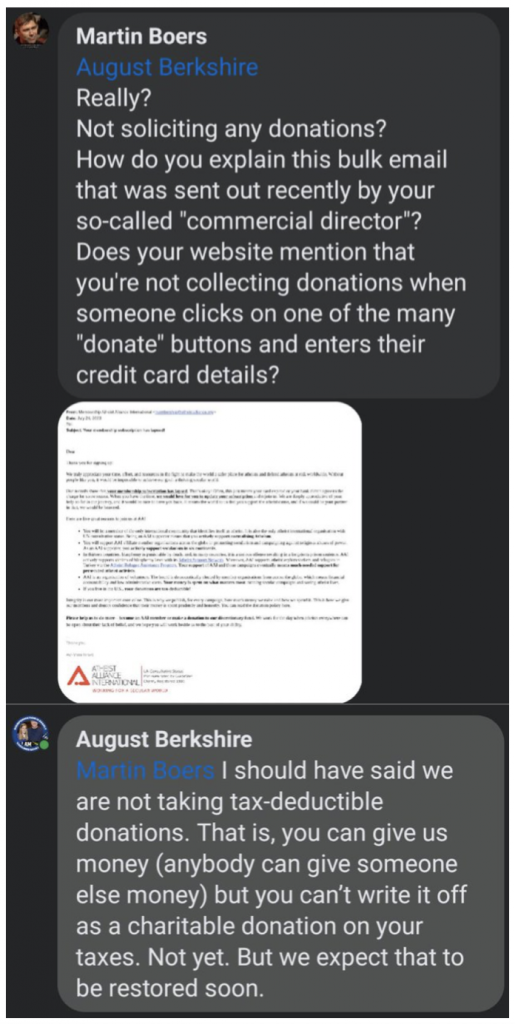 This comment from the self-styled Vice President of AAI is what lawyers describe as 'consciousness of guilt'. It is perfectly obvious from this statement that August Berkshire knows full well about the legal status of AAI. The purported Board of AAI know that their tax exempt status is suspended and that donations to their nonprofit are no longer tax deductible. Moreover, they believe that they are making progress towards regularising their legal status, even if there has been no evidence of any such efforts since 2021 and no indication that they will be successful. However even if their tax exempt status is restored at some point in the future, this still leaves open the question of donations made from 2021 until the present. As Martin Boers pointed out, from 2021 until just a few weeks ago AAI has been proactively soliciting donations while promising donors that their payments will be tax deductible. August Berkshire has already accepted that the purported AAI Board are making false representations to prospective donors in this regard.
Ahh, come on now! Let's try to be adult about this. I could solicit a donation from August Berkshire tomorrow based on a promise that I'm selling the Brooklyn Bridge. I could promise that all donations to the Brooklyn Bridge Fund are tax deductible. If it later became clear that I knew my claim of tax exempt status was false when I made it, would anyone be sanguine about this if I explained that I was still working on it, and that the tax exemption would "apply retroactively" once the "paperwork is accepted by the government"?
This kind of puerile nonsense is what currently passes for corporate governance at the only international atheist group with Special Consultative Status at the United Nations. It's just a juvenile scam. If August Berkshire wasn't previously aware of that, he most certainly is now. If he is an honest person, at the very minimum he must insist on contacting everyone who made a donation since May 2021 with a full disclosure of all the circumstances around the AAI suspension. Every one of those donors must be informed that they were not donating to a tax exempt nonprofit as AAI had falsely claimed. If he is a decent person, he should insist on a fully transparent statement on the AAI web site to describe the financial delinquency of the supposed Board, up to and including the entirely unlawful and improper solicitation of funds over recent weeks.
Alternatively he could try to brush all the wrongdoing under the carpet, just as the rest of the so-called Board of AAI have been doing since 2017. The fact that he has since deleted all of the above social media messages, does not augur well for August.
---