Atheist Alliance International (AAI) has recently published an Annual Report to cover both the years 2022 and 2023. In this document, the self-styled Board sets out to deceive their members on a large number of issues. Consider the following quotation:
"Fundraising has always been a challenge for the organisation but the major cause for this year's decrease was the suspension of the organization's charitable status by California agencies. That suspension was due to statutory omissions going back a decade, 199 forms had never been filed to the California Franchise Tax Board, ever since 2013 …"

Quote from AAI Annual Report
Accepting that the suspension of AAI has caused a reduction in their fundraising over the current year, is an admission that the purported AAI Board responsible for that fundraising has been aware of their suspended status during that entire period. The implications of a nonprofit like AAI being suspended in California are that:
they are prohibited from conducting any business whatsoever
they are prohibited from using the name 'Atheist Alliance International'
they no longer have tax exempt status such that they may accrue liabilities for taxes, interest and penalties
AAI has been operating illegally since the organisation had its status suspended during 2021. The financial statements for 2022 and 2023 in the recently published Annual Report, contain no reference to any tax liability. Moreover, it is important to consider this AAI admission of full awareness about their suspended status, alongside the other statements made in the same document:
AAI claims to have a "robust policy framework" that ensures "transparency, accountability and ethical conduct".
The so-called AAI Board accept their full awareness about "the suspension of the organization's charitable status by California agencies", which covered all of both 2022 and 2023.
After admitting awareness that they have been legally prohibited from operating as AAI since 2021, they go on to spend 16 pages listing the AAI operations during 2022 and 2023.
It is difficult to imagine what kind of ethical governance permits an organisation to knowingly operate illegally for years, while concealing this situation from their members. However, the level of deliberate deception is even worse than that. Brian Kernick as the self-styled President of AAI also offered the following comments about these issues to AAI members:
"We are pleased to share a significant update regarding AAI's administrative journey. All paperwork essential to recognize AAI as a non-profit organization registered in California has been diligently completed and submitted. While maintaining the required documentation since our inception has been a challenge, we have made dedicated efforts to rectify any past oversights. This includes tirelessly resolving specific registration and tax concerns from as early as 2013. Importantly, AAI is recognized by the IRS as a 501(c)(3) public charity. It is worth noting that many non-profits grapple with similar challenges, and many may be unaware of their non-compliant status."

Quote from Brian Kernick
Brian Kernick wants to deceive AAI members into believing that the suspension of the organisation in 2021 related to omissions by many AAI Boards dating back to 2013. He also wants to deceive AAI members into believing that many other nonprofits have behaved in a similar manner to AAI, and were suspended for similar reasons. None of this is true.
Firstly, new regulations about the financial reporting requirements for nonprofits registered in California became effective on 1st January 2016. Previously there had been no consequences for nonprofits whether they submitted annual financial statements or otherwise. However, the new rules beginning with the 2016 financial year introduced automatic suspension for failing to make some specific annual filings "for 3 consecutive years". This new regime required that the AAI financial statements for 2016 should be filed by the summer of 2017. Unfortunately for AAI, 2017 was the year in which a corrupt cabal began the unlawful coup that improperly expelled many of the longstanding affiliate member groups. It wasn't an oversight when these dishonest people failed to submit their annual accounts in 2017 as required. In fact, they undemocratically changed the Bylaws to remove the need for them to retain any of the financial records that would have described how they were spending other people's money.
The subsequent lack of any financial reporting at AAI over a period of many years, was a deliberate and intentional decision. After introducing their new policy of financial secrecy, they spent years lying about what they had done. When some honest and diligent Directors like Shirley Rivera actually adhered to their fiduciary responsibilities and asked AAI Officers how charitable donations were being managed, the then President responded by saying, "Fotis is the treasurer and he and I are dealing with financial matters. That is our job, not yours". The same person purports to be the treasurer today. AAI was suspended as a registered nonprofit, because those currently in control of the organisation decided to deliberately conceal how they were spending funds that were raised for charitable purposes. They then spent thousands of dollars from those charitable funds on themselves.
Notwithstanding the deliberate deceptions offered by Brian Kernick, it is not the case that AAI were "unaware of their non-compliant status" or how they arrived at their current predicament. Neither is it the case that many other nonprofits "grapple with similar challenges". The current situation whereby AAI continues to operate illegally even today, is a result of their own deliberate and intentional decisions rather than "challenges" that independently arose from circumstances beyond their control. AAI has not been involved in a good faith "administrative journey". Instead, the current AAI Board continues to deceive members as part of an ongoing cover-up of very serious wrongdoing. This includes their submission of false financial statements during 2023, which sought to hide entirely improper self-dealing by the purported AAI Board.
In fact, the Annual Report recently published by AAI is replete with casual dishonesty throughout. Consider the fact that during the period that they were reporting on, AAI had their Participatory Status at the Council of Europe revoked. Anyone can check themselves on the Council of Europe website that AAI is no longer a participating NGO, and has instead been excluded from international debate in that forum. The screenshot below describes how the purported AAI Board communicated their disastrous mismanagement at the Council of Europe to their members: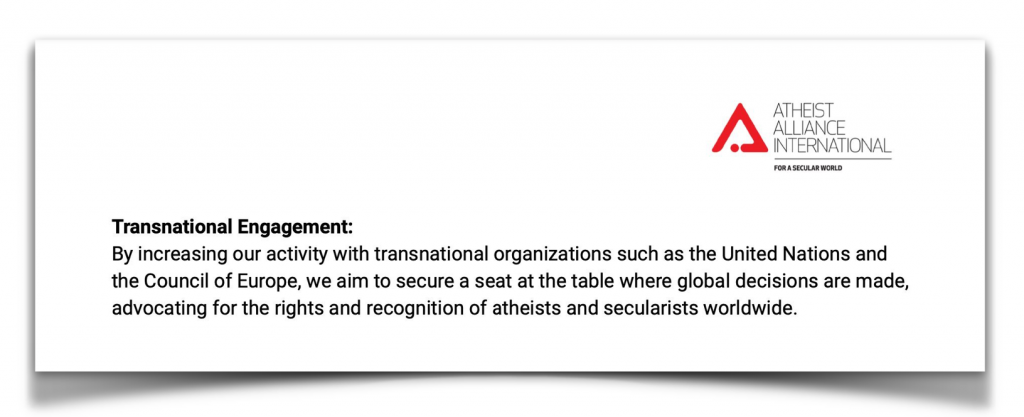 Those currently in control of AAI have been driving the organisation towards a precipice through their continued dishonesty about the very serious wrongdoing within the organisation. They would do better to try some genuine honesty and transparency before it is too late.
---